In-Home Care Services
Sequoia Senior Solutions offer non-medical in-home care on an ongoing or respite basis with specialty programs focused on the major conditions and challenges seniors face. We also offer wheelchair-accessible transportation services. Learn more about each of our services below, and keep reading to learn more about what in-home care is (and what it isn't).
What We Offer
Learn more about the services we provide:
In-Home Care Services: Know Your Options
In-home care can enable your loved one to age in place, providing a bridge in which independence can still be maintained in the home but under safer and healthier circumstances. If you are considering in-home care, it's important to know your options so you can choose the appropriate provider. That starts with identifying exactly what kind of help your parent or loved one needs.
Typically, in-home care activities will fall under two categories – medical (also called home health care) and non-medical (referred to as in-home care or personal care). The terminology can be confusing, so we'll break each type down below. And for more on senior care options, visit our blog where we cover all the basics.
What is home health care (medical in-home care)?
Home health care is clinical, medical supervision provided by a licensed professional. Those who perform home health care have some type of medical training and are required to have a certain number of hours of education/on-the-job experience in order to be certified. Home health aides, CNAs, RNs, and physical therapists are just a few types of professionals that perform home health care. Home health care is usually prescribed by a doctor and might be covered by Medicare or private health insurance. It's usually done through a home health care agency or through a hospice provider. Duties can include:
Administration of medication and/or shots
Medical tests
Monitoring of health status
Wound care
Physical and occupational therapy
If your loved one has recently been discharged from a hospital stay, a skilled nursing facility, or a rehabilitation, home health care may be right for you. It may also apply if your parent needs monitoring after a recent medication change or is experiencing a decline in function that requires a physical or occupational therapist.
It's important to note that many home health care professionals do not perform personal care duties such as bathing or grooming assistance, housekeeping, or transportation. If your aging parent needs both, you may want to consider using a combination of home health care and non-medical in-home care to meet your parent or loved one's needs and keep costs down.
What is non-medical in-home care?
Non-medical caregivers provide assistance with the daily activities of life that may have become difficult for your loved one due to general aging, the effects of a specific condition, or recovery from a medical procedure. They can also provide respite care for family caregivers who need a break. Also called home care aides, personal care aides, or personal care providers, in-home caregivers are not trained or authorized to provide any direct medical care. In addition to ensuring a safe environment, their duties typically include helping your loved one with things like:
Bathing and hygiene
Household chores/housekeeping
Meal preparation
Incontinence and bed care
Medication reminders
Companionship & socialization
Appropriate activities
Transportation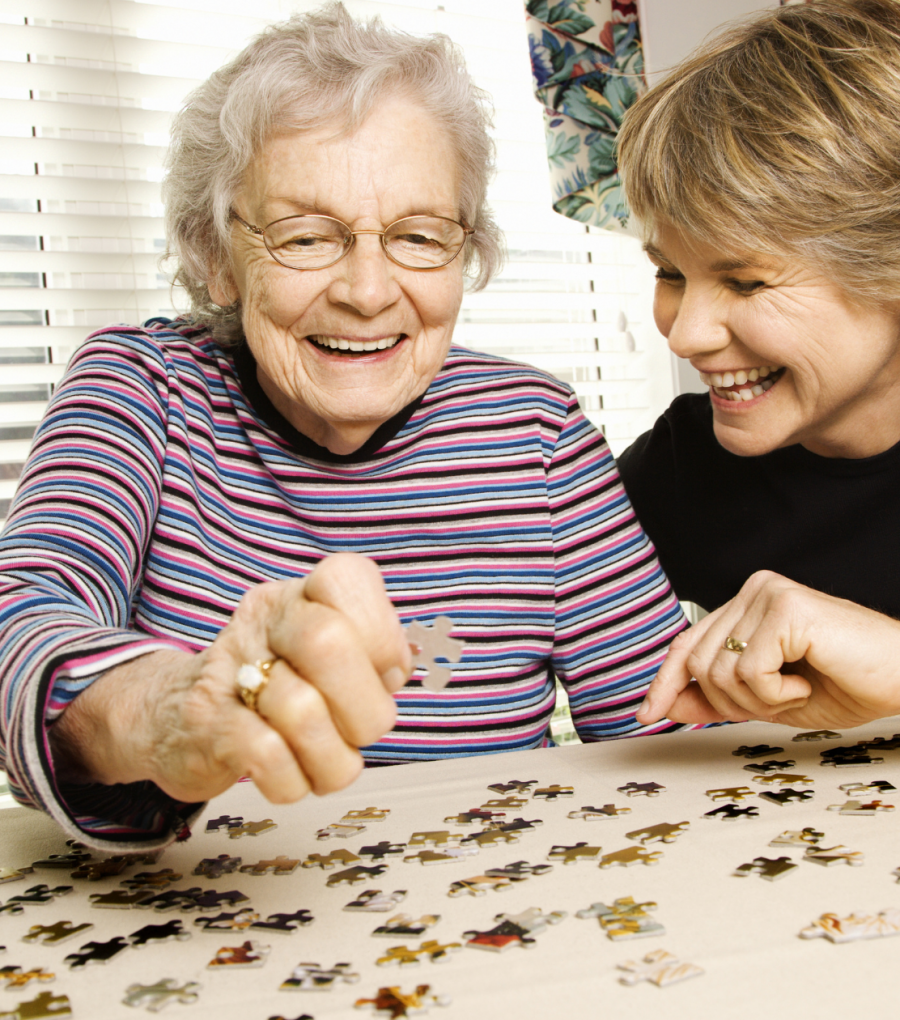 In-home care services can range from a live-in, 24 hour a day situation to just a few hours per week and can be short-term or long-term. In many cases, the caregiver and client relationship can be very impactful and can lead to an increased life span and better quality of life.
Even though the caregiver is not providing medical care, it is still important to ensure that they are well-trained and qualified to perform the duties required. Some in-home caregivers are CNAs (certified nursing assistant), but even those who do not have a certificate should still have received training and education on a variety of topics relevant to elder care. In fact, some in-home care agencies provide training on specific conditions or issues such as stroke recovery, Alzheimer's, and fall prevention. Additionally, any caregiver you choose should be well vetted by you or the agency by performing background and reference checks.
Types of in-home care
If you've determined that non-medical in-home care will suit your needs, the next important decision will be choosing whether you will hire a private caregiver yourself, or if you'll use an in-home care agency like Sequoia Senior Solutions to provide and manage a pre-screened caregiver. If you'd like to learn more about the services we provide, check out our service pages, or book a discovery call today to talk more about your specific situation.