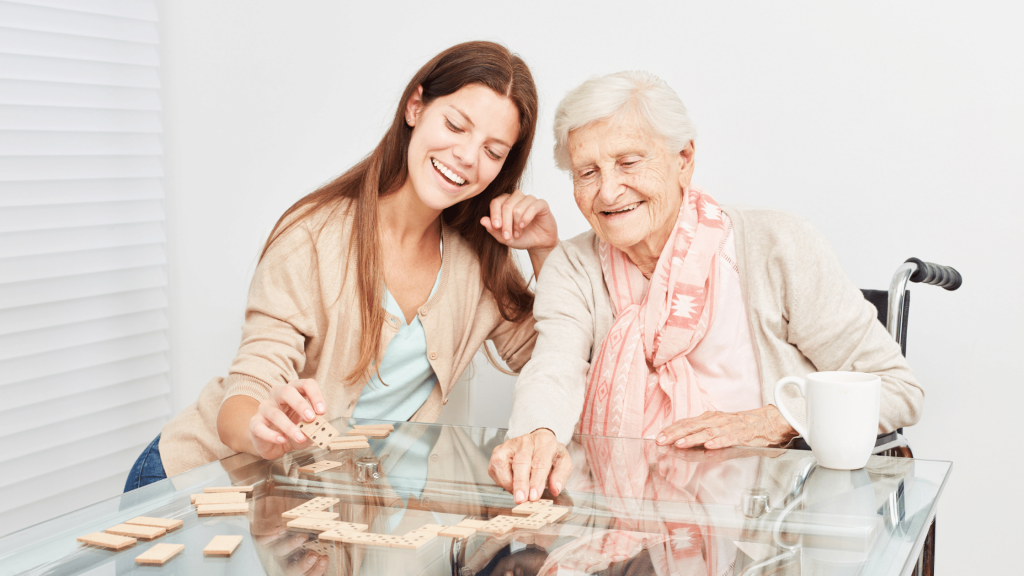 There comes a time in many adult children's lives when their senior parent needs in-home care. But it can be difficult to determine exactly when that is and hard to talk with them about it. Oftentimes, your parent will be reluctant to accept help, so it falls onto your shoulders to "parent" them and make the decision. So, what exactly are the signs to look for to tell you that time has come?
It often comes down to what is called ADLs – the activities of daily living. ADLs are all the things we do independently to take care of ourselves and our surroundings each day. They are often classified into two categories. Basic ADLs include hygiene, grooming, dressing, toilet care, and walking and transferring (to and from the bed, car, couch, etc.). Instrumental ADLs include things like paying bills on time, managing communications, and taking care of appointments/errands and meal preparation.
With that in mind, there are four main categories to evaluate when determining if your senior parent needs in-home care:
Their Home
If your parent or loved one has been in the same home for many years, it's quite possible that it's larger than they need at this point in their lives. Seniors are often eager to stay in their homes as long as possible. But as they age the housekeeping that's required to maintain those larger spaces often becomes unmanageable. If your parent's home is starting to become cluttered or messy, it may seem innocent at first. But factor in the statistic that 25% of adults over 65 experience a fall (and once they do fall, they are twice as likely to fall again). A cluttered home starts to become a real concern.
Fall hazards aren't the only possible issue with housekeeping. If it gets really out of control, an unclean home can lead to other health issues caused by mold or pest material. An in-home caregiver can assist with housekeeping to help ensure your loved one stays safe and healthy inside their home.
Their Appearance
How your loved one looks can give you some clues as to whether they are ready for some help in the home. For example, weight loss or weight gain can be an indication of a variety of things, including their nutritional habits, their medication routines, or their mental state. You may also be able to see if grooming and hygiene routines are being followed by your senior parent's appearance.
One of the in-home caregiver's primary duties is to help your loved one with their everyday routines such as meal prep, grocery shopping, medication reminders, grooming, and hygiene. So, bringing in a professional caregiver can be a great solution to address these issues. Plus they offer additional benefits such as companionship and peace of mind for you!
Their Behavior
Everyone changes over time, but for seniors, there are certain things that indicate that they are having trouble taking care of the everyday things they need to maintain independence. Or that they are in need of some help in other areas.
Here are a few behaviors that should cause some concern:
Falling behind on paying bills
Car accidents or tickets
Missing appointments
Dropping out of social activities or interaction
Reduced communication with you and other family members
Professional caregivers can assist with running errands, providing transportation and reminders and appointments, and can also provide socialization and companionship.
Their Health
A big indicator that your senior parent could use some help is if they've been diagnosed with a medical condition or suffered an injury that hinders their abilities to perform ADLs. This can include arthritis, dementia, Parkinson's, diabetes. Recovering from a stroke, a fall, or an orthopedic procedure are other common situations. Most of these conditions require a regime of nutrition, medication, or physical therapy (or a combination of these) that can be difficult for a senior to manage on their own.
In-home care services can help in many ways. In fact, here at Sequoia Senior Solutions, we have specialty programs that address these common situations that seniors face. Our caregivers are specifically trained to help people who are experiencing these conditions, in addition to helping with the traditional duties of an in-home caregiver (like helping with ADLs).
Conclusion – Is it time for in-home care?
When it comes to helping your aging parent is that early intervention is crucial. Many of these indicators will be subtle and happen over time, so take note of anything that concerns you. Keep a notebook of things that seem a bit out of the ordinary – you'll be able to track if the situation worsens which will help you jump in at the right time.
When you start to notice some of these signs, a delicate touch is important. Your relationship and how you have interacted in the past plays a role in your intervention technique. If you haven't been keeping in touch or if you live far away, increase the frequency of your check-ins if you can. And ask a neighbor to check in occasionally while you look for in-home care options. Keeping in closer contact will help you monitor the situation, and it will also help you start to introduce the idea of bringing in outside help. Respite care is a great option to start out. You can read about the benefits here.
Once you know your senior parent needs in-home care, don't delay. Each day you wait there's a possibility of a fall or other medical situation that could end up costing way more in the long run than bringing in a caregiver. Further, the longer you avoid the topic the more frustration can build, which puts a strain on your relationship and increases your stress level as the family caregiver.
Not sure if your parent or loved one needs in-home care? we offer a complimentary discovery call to talk through your situation and see if it makes sense for you. Simply click to book a time for our client service specialist to give you a call. There's no obligation, and even if it's not time to bring in a caregiver or we can't meet your needs, we'll do our best to help in any way we can!